What we offer
An independent heavy lift service provider
Services include project preparation, project engineering, project management, project execution
OWL-EUROPE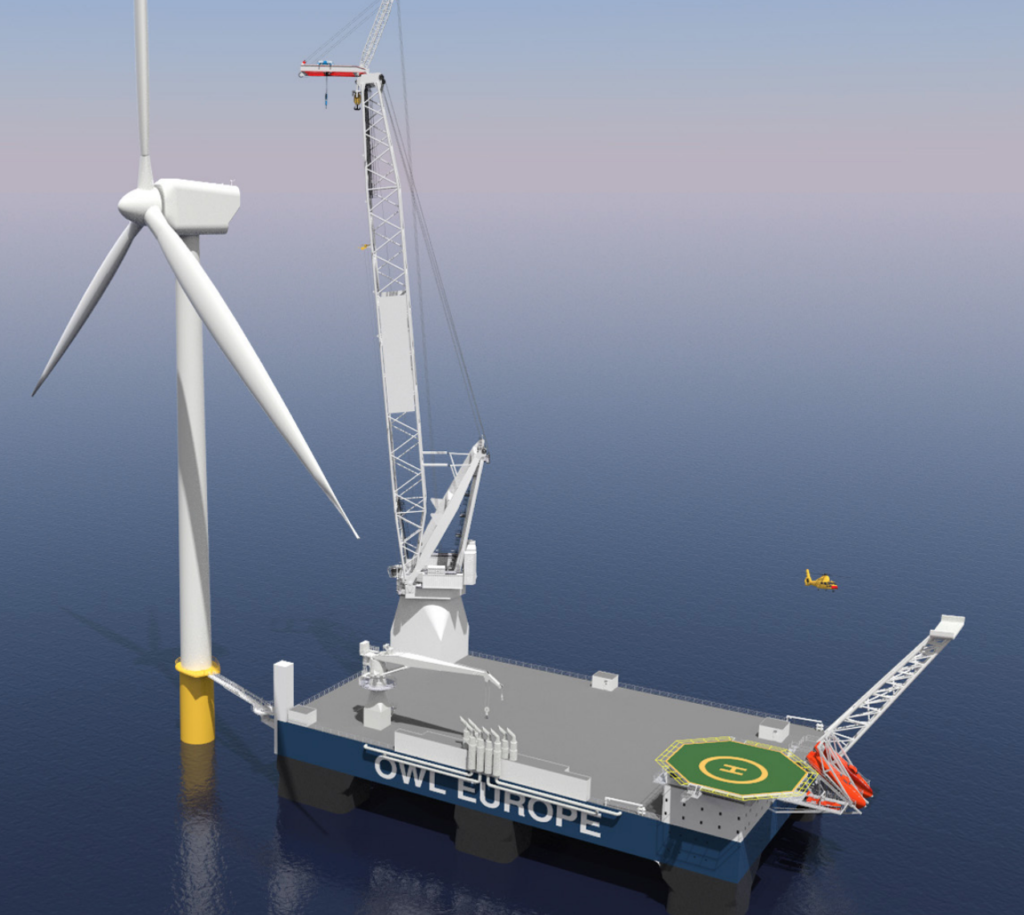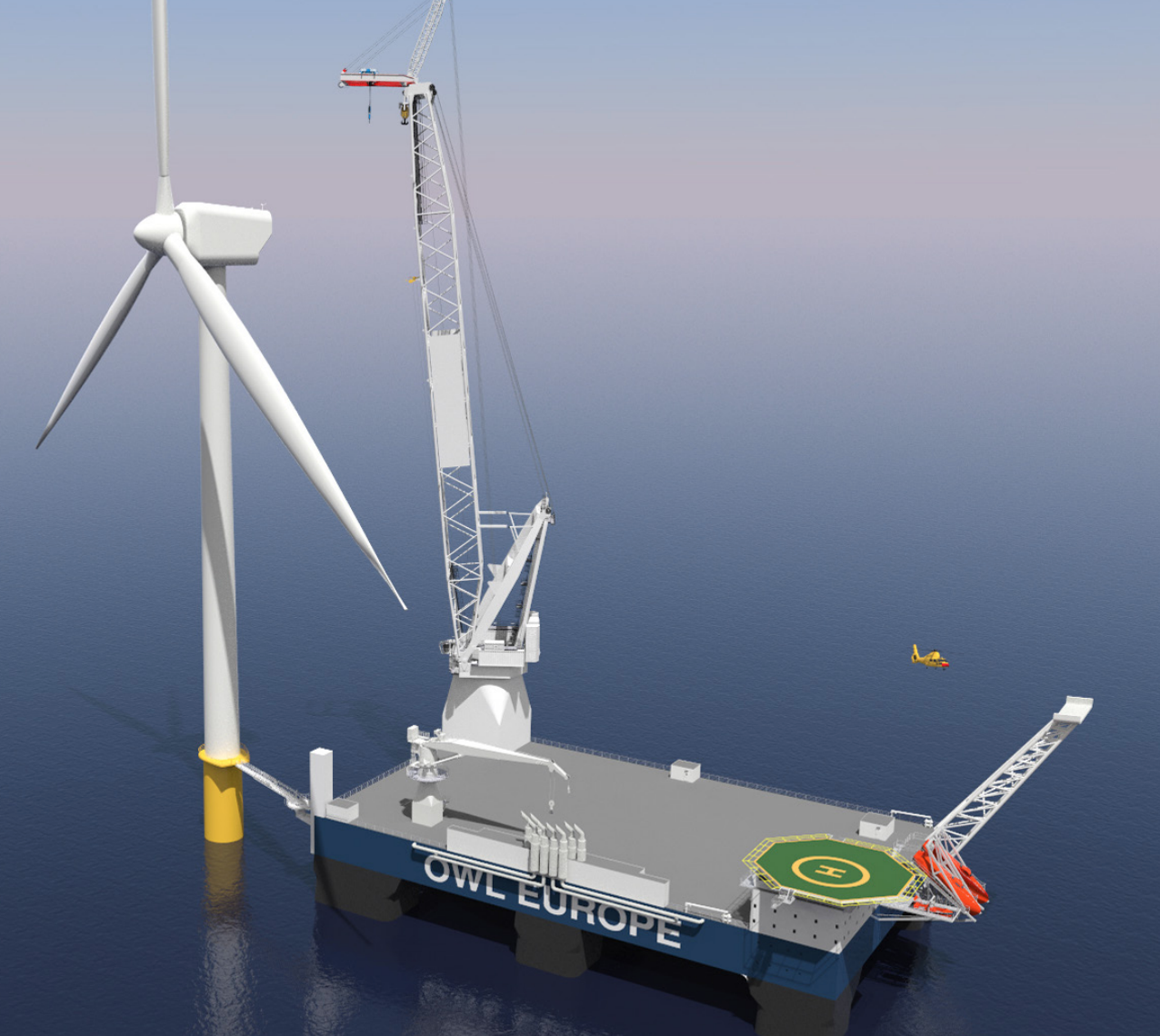 Our team of highly qualified experts with a strong drive for innovation and a healthy dose of conservatism developed the fit for purpose semi-submersible crane vessel OWL-EUROPE.

The vessel combines 150 meters of hook height with high hook position precision by 3D motion compensation. The lower daily rate and 50% faster turnaround time of the OWL-EUROPE both contribute to the common goal of reducing the offshore renewable energy LCOE.
By sailing under the Dutch flag and DNV GL class, the OWL-EUROPE meets the highest levels of safety and she is designed and built to the highest standards with a green profile.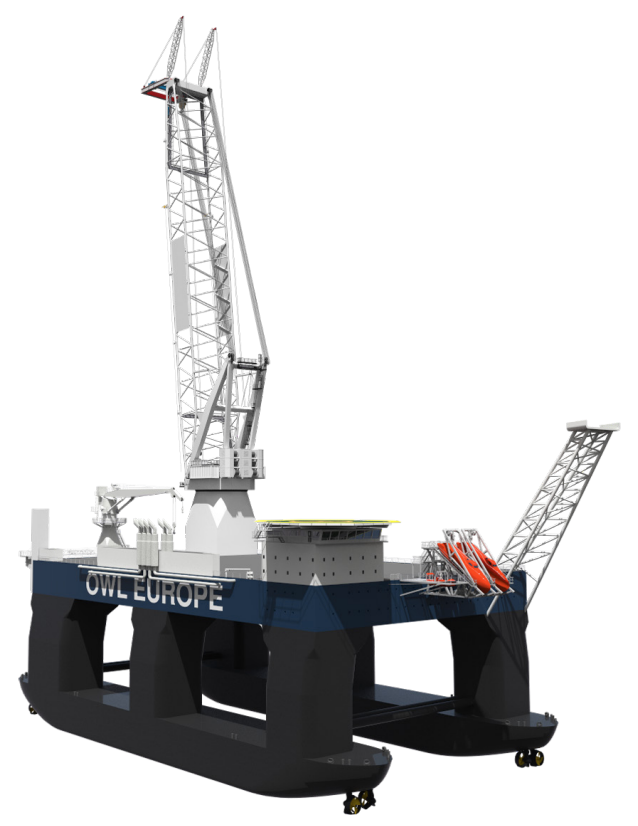 The vessel is the ideal platform for wind turbine related services because of the following characteristics
Able to serve any wind turbine, anywhere.
Lower day rate and faster turnaround times compared to other cranes with same hook height.
State of the art 3D motion compensated crane provides great hook accuracy.
Unrestricted by a maximum operational water depth or by soil conditions.
Longer working seasons and improved fuel efficiency.
Benchmark safety and comfort levels.
Capable of operating on transit draft, enabling to access and operations in shallow waters + increasing hook height.
Unit is designed and certified for worldwide unrestricted operation.
Planned delivery ex-yard earliest January 2026.
Workability analysis performed
Defined typical vessel operational limits for various operations.
Frequency domain motion analysis using 3D Diffraction.
Spectral motion analysis.
Workability based on wave scatters for locations
North Sea German Bight: Dolwin 3.
North Sea Dogger Banks.
For both these regions, indicative workability is approximately
100% in summer.
Over 75% in winter.
It is assumed that the vessel is free to weather vane and can always use the best heading for the lift operation.
At request, OWL can provide details of the above mentioned and/or revise workability of the OWL-EUROPE for specific geographic site locations.
Please feel free to contact us for more information on +31 (0)10 820 0923 or info@owlhl.com
Request a leaflet